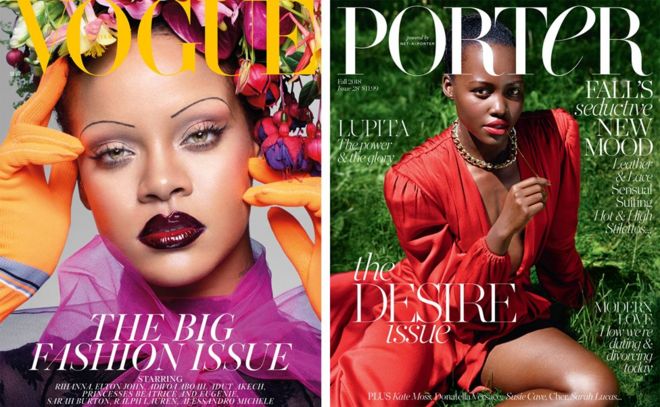 Walking into the offices of Elle, dozens of copies of the magazine's September issue lie proudly on a crisp white desk.
Its cover star is 21-year-old pregnant model Slick Woods – who is the face of Rihanna's Fenty brand and has modelled for Kanye West.
She's one of the top stars of the moment but her appearance on the front cover is seen to have bigger significance.
The model is one of several black women to feature on the front covers of many of the top fashion magazines in September.
Rihanna is on British Vogue, Lupita Nyong'o is the star on Porter magazine and Ruth Negga, who is mixed-race, features on Marie Claire UK.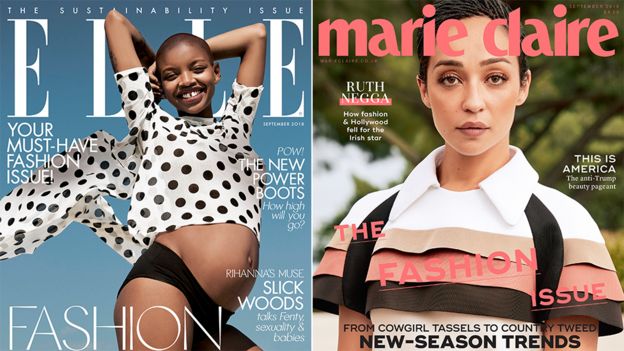 And it's not just in the UK.
Beyonce is on US Vogue, Naomi Campbell is on Vogue Paris, Tracee Ellis Ross features on Elle Canada, Nicki Minaj is the cover star of Vogue Arabia and Zendaya is on Marie Claire US.
"This is definitely unprecedented, seeing so many women of colour on so many mass market influential magazines," says Kenya Hunt, deputy editor of Elle UK.
"We didn't go into it thinking we wanted to have a black woman on the cover and we rarely do. The nice thing about having a team as diverse as ours is that the diversity on the pages and covers is just a natural by-product.
"So we really don't approach it as a box-ticking kind of method."
Why now?

Editors say the magazine industry's move towards increased diversity is a natural reflection of the way the world is changing.
The success of films like Black Panther, and social media movements like #blackgirlmagic – which celebrates the achievements of black women – have also helped bring about the change.
"Magazines reflect culture and our culture has changed, which is incredible," says Lucy Yeomans, editor-in-chief of Porter magazine.
"If we look across not just magazines, but all elements of our world – whether that's TV presenters or movie or model castings – diversity has been an issue for a lot of industries.
"I think now that this change is happening, if it happens in one industry it will be reflected in another industry. That's what's building the real momentum now."

Kenya says the last two years have been big for women of colour in the media.
She points to prominent people such as Liv Little, founder of Gal-Dem magazine, publisher Sharmaine Lovegrove and actress Lena Waithe.
"Women of colour have been sort of killing it forever. But I think it's just now, you can't really ignore it.
"I think also in terms of the larger conversation around diversity and inclusivity being what it is right now, people are much more in a mindset to embrace it."
'Black women don't sell'
September issues of fashion magazines are the most important of the year.
They're the biggest-selling issues, they attract advertisers and they make big statements about autumn/winter fashion trends.
Magazines have traditionally chosen September cover stars that are a "safe bet" – the ones who are thought will bring in the money.
It's something Beyonce addressed in an article she wrote in the September issue of Vogue US.
"When I first started, 21 years ago, I was told that it was hard for me to get onto covers of magazines because black people did not sell," she wrote.
"Clearly that has been proven a myth."

Magazine editors also point to the fact that some of their recent most popular issues have featured black women.
Elle UK's best-selling magazine of 2017 featured Rihanna, while over at Porter the highest traffic drivers to its digital magazine version – Porter Edit – featured Lisa Bonet and Tessa Thompson.
Tokenism?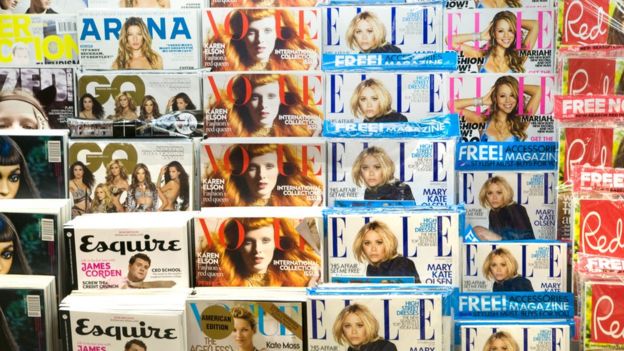 Of 214 covers published by the 19 best-selling monthly magazines in 2017, only 20 featured a person of colour, according to analysis by the Guardian.
While Marie Claire UK features Ruth Negga on its September front cover, she's the first black woman to feature since Kerry Washington in June 2015.
Its editor-in-chief, Trish Halpin, tells Newsbeat the magazine's criteria for selecting cover stars is based on two things – A-list stars it knows will sell and also "women we respect, who have integrity as well as talent".
"At the moment, there is a relatively small pool of BAME A-list stars – something we would like to see change – and a number of these are on our cover wish list. But it's not that easy to get them," she added.
Trish said in 2017 Marie Claire had two black actresses lined up for covers, but their publicists decided to go with other titles.
"We are committed to speaking to women of colour, not just on the cover of the magazine but throughout the whole issue, from the models we shoot to the real women we feature. I think that is evident when you look through Marie Claire."
Some people have raised concerns that having black women appearing on the front covers of magazines may be nothing more than a "trend".
It's taken 102 years for British Vogue to feature a black woman on the front of its September issue.

Fashion influencer Marta, from Manchester, has more than 23,000 followers on her Instagram page @thestylethesaurus.
"It's great to see that magazines are putting black celebrities and black people interested in fashion out there," she tells Newsbeat.
"But at the same time it's questionable whether this will be something to look forward to in the future.
"We still get articles saying 'This is the first black female to do this, or the first black male to do that'.
"You wouldn't think that race should matter in the 21st century but it still does.
"I think only time will tell if people's mentality has changed or if it's a one-off and the next time we see it will be in ten years."

A movement
Fashion blogger Kemi Akinboyewa, who runs the site Skylish, says black fashion bloggers felt an "excitement" when they saw the September front covers.
"We were all retweeting it and putting it on our Instagram and our stories and just feeling a lot of pride that we are getting represented in such a huge way."
But she also believes there are still some brands that have "further to go" when it comes to diversity.
"You look at their Instagram page and you look at who is representing them and they're still not representing black women or women of colour.
"There's a far way to go until there is genuine representation and diversity within the media but this is a great first step."

Lucy says she is seeing change in the magazine industry and doesn't see it as just being "a 2018 thing".
"Since launching Porter, being diverse is part of what we do every day. So I don't see it as a trend.
"If there are some people who are late to the party, at least they've come to the party.
"We are driving forward. So let's not criticise, let's take this moment and move forward in a more exciting way."
© 2018, sheconquers. All rights reserved.