Follow all the news and developments as people mark International Women's Day around the world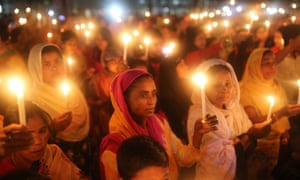 The Guardian's legal affairs correspondent, Owen Bowcott, reports on gender inequality within the legal profession –
Almost two-thirds of those becoming solicitors last year were women but fewer than a third are partners in senior professional positions, the Law Society has revealed in new figures released to mark International Women's Day.
Significant regional disparaties ain the pattern of appointments are beginning to emerge in patterns of employment, according to the organisation that represents solicitors across England and Wales.
Within the jurisdiction, 62.2% of new solicitors in 2018 were women but only 30.8% of partners in private practice are women. In Eastern England and the South-East, as many as 37% of partners are women whereas in London the figure was only around 28%.
"2019 is the centenary of the Sex Disqualification (Removal) Act, which allowed women to train as solicitors, serve as magistrates and sit on juries," said the Law Society's president," Christina Blacklaws. "The profession has made great strides over the past hundred years but there is still a long journey to gender equality, particularly senior levels in certain regions of England and Wales."
Blacklaws added: "More than half of the respondents we interviewed in our survey on women in the law cited perceived unconscious bias as the greatest barrier to women's career progression with an overwhelming 91% saying flexible working is critical to improving diversity."
Britain's biggest companies are lying when they say they cannot find enough female directors, says prominent businesswoman
The Guardian has this exclusive story about the lack of diversity at FTSE 100 companies.
The new chair of one of the UK's most influential business groups has accused Britain's biggest companies of lying when they say they cannot find enough female or ethnic minority directors.
Charlotte Valeur, who joined the Institute of Directors (IoD) in September, said she would start calling for new laws next year to force firms to improve their diversity if FTSE 350 companies failed to make faster progress.
Speaking to the Guardian ahead of International Women's Day, Valeur criticised large listed companies for not achieving diversity targets. She said: "Do we really think that's difficult? It's a lie. It's not difficult.
"I will be very unpopular with FTSE 100 [companies], but I don't actually mind, because it's not true that it's difficult."
The percentage of women on FTSE 250 boards increased only marginally, from 22.8% to 23.7%, in the year to June 2018. Over the same period, the number of female directors in FTSE 100 companies rose from 27.7% to 29%, according to a report by Cranfield University.
The percentage of female executive directors of FTSE 250 companies – who work full time for a company, rather than as independent non-executives – actually dropped during that time, from 7.7% in October 2017 to just 6.4%.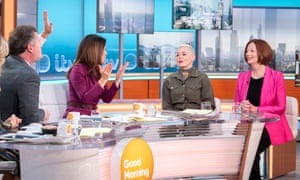 Men have always played critical roles in the women's movement. From John Stuart Mill to Fredrick Douglass, male allies have long supported the struggle for gender equality. And today there are plenty of men who are proud feminists – just ask Andy Murray, who hired and championed a female coach, Amélie Mauresmo; or Ryan Gosling, who has become something of a feminist icon. But there is still a long way to go, and we'll only get there by drawing more men into the conversation.
Despite all the progress made, men still dominate positions of power. And, as a string of recent harassment scandals has shown, the behaviour of some men has had profound effects on women's careers, their success and their lives. The good news, as we mark International Women's Day, is that many men are acknowledging the importance of playing their part to make gender equality a reality.

A new study by Ipsos Mori, in collaboration with the Global Institute for Women's Leadership at King's College London (of which I am the chair) and International Women's Day, has found that while a third of British men think they are being expected to do too much to support women's equality, far more – half – do not. In fact, three in five men in Britain agree that gender equality won't be achieved unless they also take action to support women's rights.

Despite attempts in some quarters to paint gender equality as a zero-sum game, there are plenty of win-win propositions for these men to advocate. Better parental leave for fathers would be a good start. Sorry, Piers Morgan, but the vast majority of respondents to our survey don't believe that childcare is emasculating, with 75% of people globally disagreeing that a man who stays at home to look after his children is less of a man.

Government policy needs to catch up with this new reality, and the evidence is clear that, unless paternity leave is non-transferable and well paid, uptake will be low. Sweden and Norway show us that the introduction of the "daddy quota" – the period of parental leave reserved specifically for fathers – has a positive effect on male take-up of parental leave, and then on men's long-term involvement in household work and childcare. This reaps economic dividends, as women's talents are no longer lost to the labour force, and having an involved father has a positive effect on children's wellbeing.
On International Women's Day, it's easy to get into a funk about gender pay gaps and the dismal female representation in politics and the boardrooms. But this time of year always prompts me to count my blessings as well.
Not all women and girls world wide have the same education opportunities, health care access and freedom we sometimes take for granted in western countries like Australia.
On overseas assignments in recent years, I've encountered some of the most resilient and courageous women and girls grappling with the most difficult and extraordinary life circumstances.
Last August, I met Halima, an 18-year-old single mother, with a malnourished baby on her hip, in the Rohingya refugee camps at Cox's Bazar, Bangladesh.
Her husband was killed trying to protect her from a Burmese soldier who was attempting to rape her during a village attack. She walked for a week, while heavily pregnant, to escape across the border into Bangladesh.
Her home is a bamboo tarp shelter amid the stifling tropical heat, mud and monsoon rains of a tent city of tens of thousands of people. She has little earning capacity, with only a grade five education – Rohingya girls once they hit puberty are kept in isolation until they marry. Halima was all alone and without much hope for the future.
Closer to home, I also think about the Papua New Guinean domestic violence survivors who I met at crisis centre Femili PNGon a trip with Rosie Batty and those who had sought refuge at the Haus Ruth a women's shelter.
I remember the well-dressed accountant and mother who had two miscarriages because of the bashings from her police officer husband as well as the 14-year-old school girl raped by her father.
In PNG, Australia's closest neighbour, 70 per cent of women are raped during their lifetime. Bride prices, no welfare safety nets and a shortage of safe houses make escaping violence complicated for PNG women. Often women are "patched up by doctors" in between abuse incidents.
The sisterhood's pursuit of equality must be blind to borders.
International women's day begins – in pictures
© 2019, sheconquers. All rights reserved.