A new report has found that women are overwhelmingly the victims in fatal domestic violence cases, with the first three months after they leave their male partner the most dangerous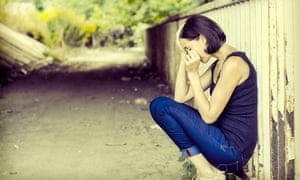 Men killed women in 80% of domestic violence murders in Australia between 2010 and 2014, and about one in three killed a former partner.
A report, published on Thursday by the Australian Domestic and Family Violence Death Review Network, found almost half of those homicides of former female partners occurred within three months of the relationship ending. According to the Domestic Violence Prevention Centre, women attempt to leave an abusive relationship on average between five and seven times before successfully and permanently doing so, and the time when a woman leaves her abusive partner is also when she is in most danger of being harmed.
The offenders and victims identified in the report were parents either together or separately to at least 107 children at the time of the homicide.
The chair of the network, Heidi Ehrat, said the report provided unique and previously unreported information about domestic violence homicide at a national level, including histories of violence leading up to the homicide. She said she hoped the data would help intervention and prevention efforts.
The report found that almost a quarter of men (24%) who killed their current or former female partner were named as respondents in Domestic Violence Orders that were supposed to protect their victim.
Emotional abuse – that is, behaviour employed by abusers to frighten, belittle, humiliate, unsettle and undermine a victim's sense of self-worth – was used by 84% of the men who killed a current or former partner in the lead-up to her death.
"In some cases where a female homicide offender killed a male partner there was evidence that domestic violence went both ways prior to the fatal episode, meaning that the female offender had both abused and been victimised by the male she killed," the report found. "In fewer cases, the male homicide offender killed a female partner in circumstances where he had been both victimised and abused by that female partner."
Three men (2% of offenders) killed their male partner. There were no instances of a woman killing her female partner.
"It also shows how much good work the states and territories are doing in this space to collect data now in order to help us understand how systems can be improved to stop these deaths," she said.
"The data on the number of children affected really struck me. We need to ensure support services are wrapped around them."
Domestic Violence Victoria CEO Fiona McCormack said that the report provided "a national picture of the lives lost to men's violence against women they claim to love".
"The significant number of women killed soon after separation is particularly troubling. We need to challenge the idea that women have no right to leave a man, or that men have the right to make her pay if she does.
It also proves the need to make sure we have services in place for women in danger. Anyone in contact with women or children where there is a history of family violence needs to be aware of the high levels of risk at separation and have support available for everyone who needs it."
© 2018, sheconquers. All rights reserved.