The singer's new lingerie brand has been met with fanfare and lengthy online queues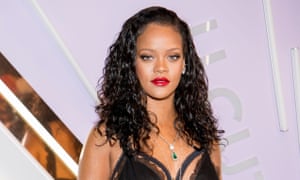 Online queues and "sold out" signs greeted UK shoppers hoping to purchase items from Rihanna's lingerie collection, Savage x Fenty, as it launched on the brand's website on Friday morning. Hype had been building steadily since April, when the singer, whose albums include Anti, confirmed its inception to her 62.5 million Instagram followers.
The collection – which became available to purchase at 5am GMT – comprises 90 pieces of lingerie, sleepwear, loungewear and accessories. As with Fenty Beauty – Rihanna's makeup line, which launched amid fan hysteria in 2017 – the USP of her lingerie offering is the seven "nude" shades designed to match every skin tone.
Praise has also been extended to the inclusive sizes on offer. Bras are available from 32A to 44DD (although established brands such as Rigby & Peller extend a further five sizes, to a J cup), while underwear and the rest of the collection ranges from XS to 3XL.
To further assert the body-positive message, the pieces are modelled by a diverse group of models of all sizes and skin tones, including plus-sized Instagram star Audrey Ritchie.
"Women should be wearing lingerie for their damn selves," Rihanna told US Vogue. "I can only hope to encourage confidence and strength by showing lingerie in another light. You don't have to stick to one personality with lingerie; it's fun to play around … I want people to wear Savage x Fenty and think: I'm a bad bitch. I want women to own their beauty."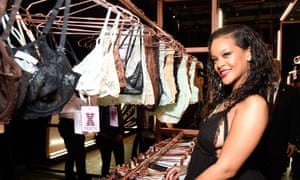 Savage x Fenty prices start at about £13 for underwear, rising to £89 for a corset. Shipping is available to 210 countries. By 8am, several of the pieces from the promotional campaign – including the microfibre T-shirt bra (£30.50) and the lace teddy (£61.79) – were already gone.
In September 2017, when Fenty Beauty launched exclusively at Harvey Nichols in London, queues formed around the block as fans stood in line for up to three hours, while 8,500 online customers queued to shop before 8am on launch day.
"While we predicted that the brand would be popular with our customers and Rihanna fans alike, we could not have predicted how quickly the products would sell out," says Jo Osborne, concessions and beauty buying director for the department store. "Rihanna certainly has the midas touch and is a smart businesswoman amassing quite an empire."
The immediate success of Savage x Fenty is testament to Rihanna's pulling power and business acumen. The 30-year-old, who was discovered in Barbados aged 16, has eight multiplatinum studio albums under her belt and was ranked 7th in Forbes's list of the highest-paid women in music in 2017, with earnings of $36m (£27m) in the previous year.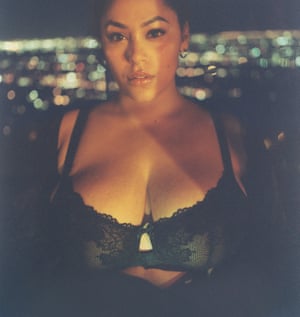 Her 2016 collaboration with Puma generated $1bn in sales for the sportswear brand, while Fenty Beauty, on which she partnered with LVMH-owned brand incubator Kendo, was named one of the best inventions of 2017 by Time magazine.
She is a philanthropist, too: in 2012, she established the Clara Lionel Foundation, a US non-profit organisation that benefits impoverished communities across the world, for which she was named humanitarian of the year by the Harvard Foundation in 2017.
She puts her success down to intuition. "I approach everything with the same mentality," she says. "It has to be authentic, it has to be from me, my perspective. I've wanted to do a lingerie line for a long time, but it was important to me that it be done right. To push past the boundaries associated with lingerie and encourage women to embrace their uniqueness. Everyone should feel good wearing lingerie."
Savage x Fenty has a membership programme that costs $50 a year and gives early access to launches, limited-edition pieces and free shipping.
"Membership brands are so hot right now and Rihanna can certainly create something special where people feel like they belong and want to buy from her," Georg Richter, CEO and founder of the subscription commerce platform OceanX, told the fashion trade newspaper Women's Wear Daily. "A person like her has it easy in this business, because people are already looking for her – she's a modern influencer. It's hard to start something if you don't have that reach."
The extent of Rihanna's influence was apparent in March, when she wiped almost $1bn off the value of Snapchat's parent company, Snap Inc, after criticising the social media app for hosting an advert that appeared to make light of domestic violence.
This year she is broadening her horizons again to star in the all-female lineup of Ocean's 8, alongside Sandra Bullock, Cate Blanchett and Anne Hathaway.
The film draws a parallel with the female empowerment message behind her lingerie line. As she says of Savage x Fenty: "As women, we're looked at as the needy ones, the naggy ones, the ones who are going to be heartbroken in a relationship. Savage is just the reverse. And you know, guys don't like getting the cards flipped on them – ever."
© 2018, sheconquers. All rights reserved.