Noura Hussein, whose case has been taken up by Naomi Campbell and Emma Watson, vows to help other women forced to marry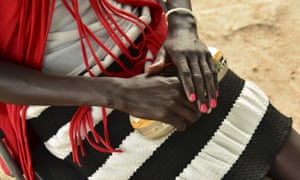 The lawyers for a young Sudanese woman sentenced to death for killing her husband as he tried to rape her have formally appealed the ruling as a petition calling for her to be spared reached a million signatures.
The legal team working on behalf of 19-year-old Noura Hussein, whose case has become an international cause celebre, had until Thursday to file an appeal to the death sentence handed down by a Sudanese court 15 days ago.
High-profile figures have joined the campaign to get the sentence overturned, among them the model Naomi Campbell, actors Mira Sorvino, Emma Watson and Rose McGowan, and Julia Gillard, the former Australian prime minister.
Ahead of the appeal, Hussein told the Guardian from prison in the city of Omdurman that, if she was pardoned, she planned to study law to help others.
"When I get out of here, I want to study law to defend other oppressed people," she said.
Her case has underlined the issue of forced marriage, including minors, and women's rights in the Sudanese courts system.
Forcibly married by her family at 16 to an older man chosen by her father, Noura fled to take refuge at an aunt's house. But after three years she was tricked into returning home by her own family, who then handed her over to her husband's family.
According to her supporters – including the activist group Equality Now, which is backing a petition organised on her behalf – Hussein had been with her husband for six days when he raped her with the assistance of his brother, a relative, and a witness, who held her down.
When he attempted to rape her again the following day, she stabbed her husband to death before going to her own parents, who handed her over to police.
One of her lawyers, Ahmer Sibair, said forced marriage was a familiar problem in Sudan. "Marrying girls and women without their consent is common in Sudan, and it causes so many problems. They marry a girl as a child and without her consent, and so many of them lost their chances to be educated."
Activists who have been supporting her in her legal process cautioned that, despite the appeal against her conviction and death sentence, it could take months for the appeal court to rule.
Equality Now, which has been working with a local partner in Sudan, released a copy of the appeal, which argued that Hussein was the victim in the case after killing her rapist while she defended herself.
"Noura was a victim of child marriage, forced marriage, rape and denial of justice," her legal team said in a statement.
"As if that was not enough, she now is at the brink of losing her life for defending herself from violence, where law, tradition and culture failed her.
"Noura and indeed the women and girls of Sudan have too often been treated as chattels to be traded and given away as though they are property, and as though they have no rights.
"Here today, united and in one voice we wish to say – 'Enough!' We want to turn on the light against perpetrators who prey on children and women, violate them and expect protection from the law."
© 2018, sheconquers. All rights reserved.