Persimmon, BP and Tui among those warned that investors are 'becoming restless'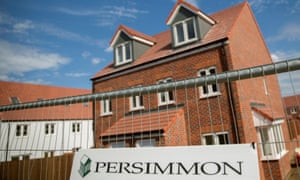 Some of the UK's biggest stock market-listed companies including the oil giant BP, the housebuilder Persimmon and the travel firm Tui have been criticised for their lack of women in leadership roles and could face investor revolts in the coming months.
The Investment Association, which represents fund managers who collectively own a third of all FTSE-traded shares, warned that investors were "becoming restless", as the AGM season got under way.
One of the biggest investors in the UK stock market, Legal & General Investment Management, on Tuesday announced it would step up pressure on companies by voting against the chairs of FTSE 350 firms at annual meetings this year if their boards were not at least 25% female.
They include companies in the FTSE 100 with all-male executive committees, such as BP and the packaging company Smurfit Kappa Group, and firms whose senior management have low proportions of women, such as Persimmon and Tui.
Other listed companies with all-male management teams include the doorstep lender Provident Financial, the wealth management firm St James's Place, the retailer Sports Direct and the infrastructure firm Stobart Group.
Two years ago, the Hampton-Alexander review, an independent government-commissioned report, said smaller FTSE 350 companies should aim to fill at least a third of their boardroom positions with women by 2020.
Large and medium-sized companies, listed on the FTSE 100 and the FTSE 250 respectively, should have at least a third of their executive committees and executive pipeline positions filled by women by 2020. The review was led by Sir Philip Hampton, tchairman of GlaxoSmithKline, and the late Dame Helen Alexander, former chair of UBM. The targets are voluntary.
Chris Cummings, chief executive of the Investment Association, said research had suggested that firms with a diverse management team made better decisions and outperformed less diverse businesses.
"A number of key investors have told us that they will vote against AGM resolutions on the grounds of gender representation," he said. "With the AGM season now in full swing, companies who are falling short should take urgent steps to outline what they plan to do to increase diversity."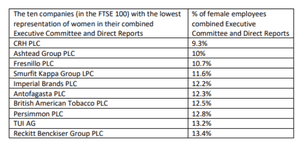 Ten FTSE 250 firms did not provide gender diversity data last year, including the AA, the turnaround specialist Melrose, which has just acquired GKN after a hostile takeover battle, JD Wetherspoon, WH Smith and Wizz Air.
Hampton will next month write to all FTSE 350 companies urging them to submit their gender data as of 30 June. The full report will be published later in the year and will show the representation of women across 23,000 senior leadership roles.
The new initiative comes as MPs investigate how government can help promote women to better-paid and more senior roles within business using the new gender pay gap reporting requirements.
Earlier this month, more than 10,000 companies reported their gender pay gap.
The data, which measures the difference in average hourly earnings between all men and all women working for an organisation regardless of their roles, rather than men and women in the same role, showed that, on average, women were being paid a median hourly rate 9.7% less than men.
Sam Smethers, chief executive of the campaigning group the Fawcett Society, told MPs on Tuesday that the government should require all companies with more than 50 employees to report on their pay gap, drawing in far more organisations than the current 250 employee bar.
Smethers, Brenda Trenowden, from the 30% Club campaigning group, and Alice Hood, from the Trades Union Congress, also called for the introduction of mandatory pay gap action plans in order to foster change.
© 2018, sheconquers. All rights reserved.