Push for judges opposed to choice has already emboldened campaigners who have helped pass restrictive laws at state level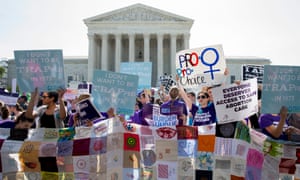 Wendy Vitter is the kind of judicial nominee anti-abortion campaigners banked on when they cast a vote for Trump.
She's a former prosecutor and general counsel for the Catholic Archdiocese of New Orleans who lobbied against abortion access, cheered laws which make abortion "difficult", and believes abortions hurt women.
Vitter has insisted she could keep rulings separate from her personal views. Less than a week ago, the Senate judiciary committee moved forward her nomination for a lifetime appointment in the eastern district court of Louisiana.
Daniel Goldberg, legal director at Alliance for Justice, a group that rates judicial nominees, said: "For the next 30, 40, 50 years, these individuals will be deciding cases involving reproductive rights, regarding sex harassment, regarding workplace equality.
"That means for the vast, vast majority of people, the final word on what our constitution means and whether critical laws are properly enforced is from these lower courts" – such as the district court where Vitter could serve.
Donald Trump came into office promising to appoint judges who would "automatically" overturn Roe v Wade. The landmark 1973 supreme court ruling legalized abortion in the US. Now, Trump is making good on that promise, nominating openly political "theological crusaders", in Goldberg's words, to serve lifetime appointments as judges.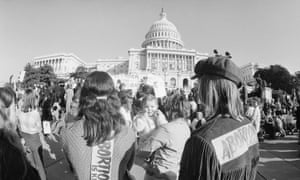 Vitter is one of 77 people the Trump administration nominated or confirmed for federal judgeships. Of those, campaigners said 11 judges and eight nominees had anti-abortion records. Of the 39 judges and 38 nominees, just 18 are women.
The pipeline, said Hanson Long, starts with legislation written by anti-abortion state campaigners, which become laws passed by state legislators, "which will be heard in front of judges that were supported by other anti-choice organizations.
"It then potentially go to the US supreme court, where they'll meet [Justice] Neil Gorsuch," a pro-life Trump pick, "and potentially another anti-choice nominee, that Donald Trump would install if given the opportunity, to rule against women and families."
Indeed, Trump's push for new, anti-choice judges has emboldened anti-choice campaigners. In May, Iowa passed one of the most restrictive abortion bans in the industrialized world, banning abortion after a fetal heartbeat can be found, or about six weeks after conception. Most women do not know they are pregnant then.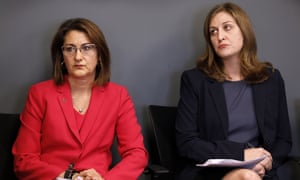 That, anti-abortion groups told the Guardian, is the point.
"It's no accident that state legislatures have been, in recent years, passing countless laws designed to erode – and in many case eradicate – the critical right for women," said Goldberg. "They've done so knowing that Donald Trump is appointing judges who will outright overturn a Roe v Wade and its progeny, or severely limit it and make it almost meaningless."
For example, cases appealed from lower courts in Iowa could go to eighth circuit, and be heard before new Trump pick Leonard Steven Grasz. He was rated "not qualified" by the American Bar Association (ABA), America's largest association of attorneys.
An ABA rating panel described Grasz as "gratuitously rude", and said his "pro-life agenda" seemed to "overwhelm and obscure the ability to exercise dispassionate and unbiased judgment".
His supporters insist that he has the integrity and ability to be a judge, and dismissed the ABA criticism.
Those advising Trump on judicial picks are also opposed to abortion rights. Unlike in previous administrations, Trump's White House has not consulted with the ABA at all on nominations. Rather, the Trump administration appears to have relied on the Federalist Society, where many nominees have been current or former members, or frequent speakers.
"Donald Trump campaigned on a pledge to appoint supreme court justices who would vote to overturn Roe v Wade," said Hanson Long, of pro-choice organization Naral. "Trump's nomination of these individuals is sort of the final puzzle piece in many attempts to erode abortion access and reproductive freedoms."
Vitter's nomination is still pending before the US Senate. When she was before the Senate judiciary committee, she promised to keep her personal beliefs separate from any decisions she would make, should she be confirmed as a judge.
Those personal beliefs are well known. Just five years ago, she spoke before a rally at a Planned Parenthood clinic under construction in Baton Rouge.
"Planned Parenthood says they promote women's health," said Vitter. "It is the saddest of ironies that they kill over 150,000 females a year," she said referring to fetuses. "The first step in promoting women's health is to let them live."
© 2018, sheconquers. All rights reserved.