A trip to SuperShe Island in the Baltic Sea costs £3,500. But the trend for exclusive networking groups aimed at wealthy women only sets back gender equality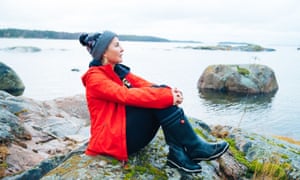 Off the coast of Finland, immured in the Baltic Sea, there is a private island where men are banned and only a select few women, with suitably large bank accounts, are allowed to set foot. It is called SuperShe Island and it is the international headquarters of the SuperShe society.
When I first heard about this women-only island, I thought – rather hopefully – that it might be a SuperSapphic version of Love Island. Desert Island Dykes, perhaps? No such luck. There is nothing filthy about SuperShe Island; rather, it is all about the lucre. SuperShe, you see, is basically an upmarket networking group for well-off women. If you have €4,000 (£3,500) to spareand you are willing to undergo a rigorous interview, it offers you the chance to spend the week on a "wellness" retreat miles from men, mingling with other affluent, influential women.
It was quite the education reading this; I had no idea straight women were so easily distracted by putting on lipstick for men. It made me worry about heterosexual people.
SuperShe Island also offers lots of yoga (it is basically illegal not to do yoga at upmarket retreats), organic food and various life-improving exercises, including cognitive exercises to expel negative thoughts. I would love to know exactly how these cognitive exercises work, because the more I read about SuperShe Island (it has had a ton of press lately – there is something about banning men that seems to get people interested), the more my brain was besieged by negative thoughts. What fresh faux-feminist hell is this, I wondered. Please tell me this is not yet another example of a newly minted women-only space painting itself as empowering when it is clearly elitist?
I say "yet another example", because there has been a boom in bouji spaces exclusive to women. There is the Wing, for example, a fashionable women-only co-working space and social club with locations across the US and a space in London on the way. Membership costs from $2,350 (£1,800) a year and there is a waiting list. Then there is the AllBright, an exclusive women-only members' club in London that opened earlier this year and costs at least £975 to join. There is Women Fest, too, the UK's first all-female festival, which is scheduled to take place in August. (It costs £225 to attend, but some of the profits will go to a tree charity, so I guess that is OK.) I could go on, but you get the picture: the old boys' club is being challenged.
I am not against women-only spaces. We still live in a white man's world. It is important for minorities and women to have places that belong to them, where they feel safe and valued and can be themselves. But I find the trend for high-priced, women-only networking spaces nauseating, particularly as these often use feminism as a marketing device, talking about sisterhood while seeming only to care about bettering a few already wealthy women. This is not what feminism is. It seems to me that these spaces only set back gender equality. So, as far as I am concerned, SuperShe Island can get in the sea.
Forget phalluses – what about big dyke energy?
"Do you think I have big dyke energy?" I asked my girlfriend the other day. She looked me up and down and sighed. "Is this a Twitter thing? You really need to spend less time on Twitter, you know."
While it is true that I should spend less time on Twitter, the social network is also an invaluable source of useless information. Last week, for example, Twitter brought the concept of "big dick energy" into the national consciousness. A single tweet launched a thousand explainers in outlets ranging from the BBC to GQ to the Guardian. If you missed the column inches devoted to the concept, it basically means being hugely confident.
But enough with the phalluses, please. Let's talk about BDE 2.0, which is big dyke energy. The internet is yet to settle on an official definition of this, but it involves being comfortably self-assured without being cocky; being confident without conforming to gender stereotypes. You don't have to be gay to have big dyke energy, but you do have to challenge heterocentric norms about womanhood.
Big dyke energy may sound like a throwaway internet joke, but trying to conceptualise what it means is a worthwhile exercise, because it gets you thinking about existing female tropes. There is the cool girl; the crazy ex-girlfriend; the old maid; the Stepford wife; the gold-digger; the femme fatale; the scorned woman; the cougar; the damsel in distress; the ingenue; and so on. When you start looking at how we categorise women, it quickly becomes apparent that most of these tropes revolve around men.
What is great about the idea of big dyke energy is that it reflects a growing acceptance of women deriving their energy not from men's approval, but from themselves.
When owls attack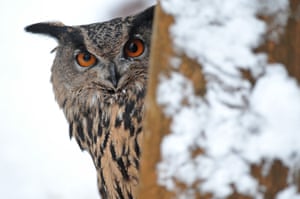 The political climate offers plenty of reasons to lie awake in a panic. But here is a new one: owls. I have always thought owls look evil, but I had never interrogated their malevolence. That changed when I watched a Netflix true-crime show called The Staircase and started reading about the murder trial it documents. You see, there is a theory that the woman who dies in The Staircase is the victim of an angry owl. While that may sound nonsensical, owl attacks are not uncommon. Indeed, last week, Iain Lee, a TalkRadio presenter, said he was viciously attacked by an owl. I don't want that to prey on your mind, but please be careful out there.
© 2018, sheconquers. All rights reserved.