By BBC News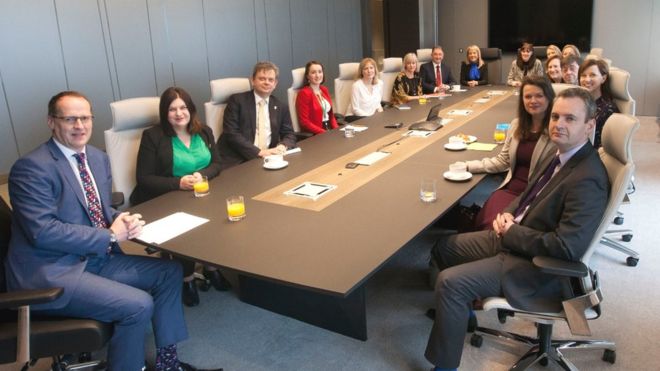 Scottish business leaders have joined a new mentoring programme which aims to help increase the number of women in senior executive roles.
Under the scheme, they will offer career advice and guidance to women from organisations and firms across Scotland.
A total of 18 leaders have already signed up as mentors. Each will mentor three women for 12 months.
The programme was launched on Friday by Scottish Power and CBI Scotland.
Organisers hope it will help to narrow the gender pay gap – the percentage difference between average hourly earnings for men and women.
Across the UK, men earned 18.4% more than women in April 2017, according to the Office for National Statistics (ONS).
CBI Scotland will oversee the programme and help to pair each leader with their three mentees.
The full list of mentors/organisations taking part in the scheme is as follows: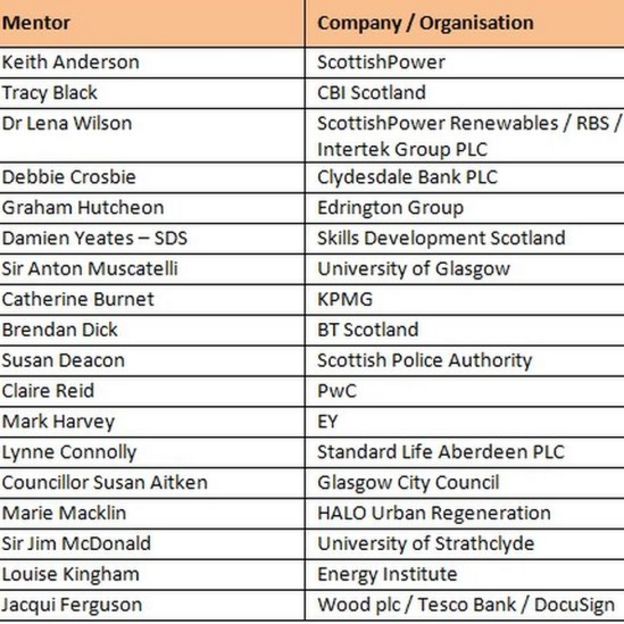 CBI Scotland director Tracy Black, who will also act as a mentor, said: "Many businesses are already doing more to build inclusive working environments that enable people to be their best.
"But we're not there yet.
"While women are joining boards in greater numbers than ever, it's often as non-executive directors.
"These are important roles but they are not the day-to-day leaders of UK firms. We need more women in the senior ranks of our companies.
"Mentoring is an extremely powerful tool in our arsenal – it gives aspiring women the chance to learn leadership skills from the best minds in business and helps them access the kind of networks that can too often feel closed off to them."
Want to find out the gender pay gap at your company? Try the calculator below.
Scottish Power chief executive Keith Anderson said: "A common factor raised in a lot of organisations when reporting on their gender pay gap is the under-representation of women in senior roles.
"This was the case for Scottish Power, and we are already reviewing how we identify talent and enhance career opportunities internally.
"The issue is greater than one company or one industry though, and we want to work with leaders in all organisations across to Scotland so that collectively we can identify weaknesses and improve practices."
First Mentor initiative
The new programme was welcomed by First Minister Nicola Sturgeon, who earlier this month launched a search for a young woman to mentor under the First Mentor initiative.
That project aims to encourage a new generation of female leaders.
She said: "I commend Scottish Power and CBI Scotland for launching this initiative and committing to narrowing the gender pay gap in sectors traditionally difficult for women to both enter and progress in.
"I am delighted to see that so many people in leadership roles across industry are pledging their time to help women achieve their potential."
Under new legislation, UK companies with 250 employees or more are legally required to publish their gender pay gap by 4 April, while the deadline for the public sector is 30 March.
Two weeks before the deadline, more than 6,000 firms had not disclosed the average difference between what they pay male and female employees.
© 2018, sheconquers. All rights reserved.