Government policies have "repeatedly skewed towards men", a committee of MPs has said in a report on the impact of coronavirus on men and women.
Committee chair Caroline Nokes said the government had "repeatedly failed to consider" the labour market and caring inequalities faced by women.
The report makes 20 recommendations including making it easier for staff to get flexible working arrangements.
The government said it had spent over £200bn on job support schemes.
"Throughout the pandemic this government has done whatever it takes to protect lives and livelihoods, and will continue to do so," a spokesperson said.
Sharon Luca from Warwickshire works from home, running a clothing business and a charity raising money to help parents of stillborn children.
Her husband also works full time and so cannot help with homeschooling.
Because she is helping her son do school work, Sharon says she has "barely had anytime to focus on my business or the charity".
This has meant losing "a big chunk" of her earnings she says, adding: "My income is my only independence."
Sharon thinks women are bearing the brunt of homeschooling.
"I know a lot of mums who work from home or have small businesses like myself and all of them are saying that they've been affected by homeschooling.
"They really don't have the time now to put in the energy to earn a living from their small business – homeschooling overtook everything."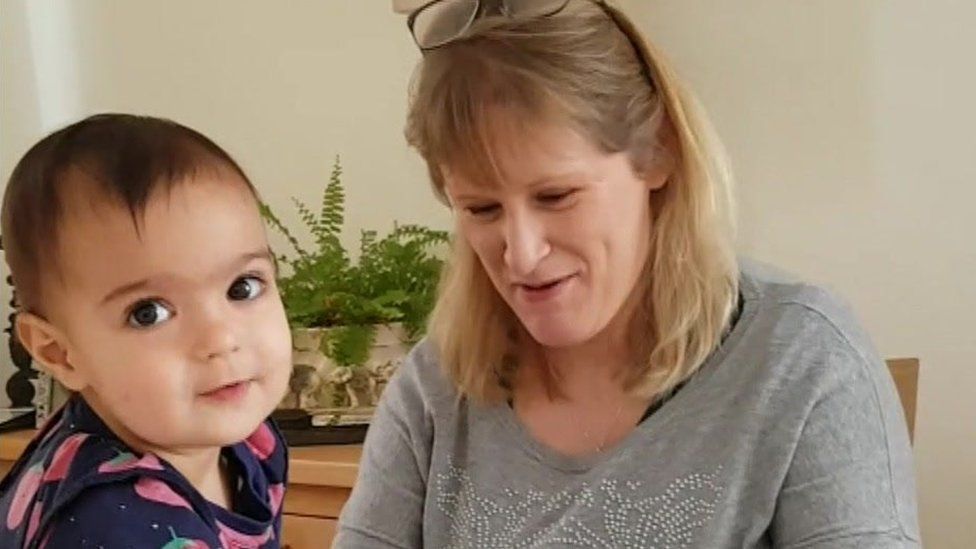 Clare Jeffries, a single mother from Banbury, was made redundant from her job in HR during the pandemic and now can't find a role that's flexible enough to accommodate childcare – despite lots of searching.
She worries this is a problem that largely impacts on those with caring responsibility and "disproportionately affects women".
She says "inclusion is a choice" and that employers "need to think about the choices they're making".
"Things like flexible working need to be a right for everybody."
She also wants the government to fund more childcare "so that we can actually get back into work easier".
'Blokey mentality'
The Women and Equalities Committee has examined some of these problems and says the government needs to "start actively analysing and assessing the equality impact of every policy".
Its chair Ms Nokes said: "Government policies have repeatedly skewed towards men – and it keeps happening."
Speaking on BBC Radio 4's Woman's Hour, she said although ministers had not "deliberately designed policies to be sexist," there had been "institutional thoughtlessness" about their particular impact on women.
The Conservative MP – who lost her job as immigration minister when Boris Johnson entered Downing Street – also said the opinions of female cabinet ministers were "not being played into debates and decisions".
She told the programme there was a "very blokey mentality at the top" of government, which had suffered from "the predominance of single-sex education round the cabinet table".
Policy recommendations
The report notes that during the pandemic, women spent more time on caring duties than men, yet "furlough was not clearly articulated as a right for those with caring responsibilities".
On sick pay, the report cites evidence that women were less likely to qualify for statutory sick pay, in part due to caring responsibilities, which meant their wages were too low to be eligible for the support,
Making over 20 recommendations, the committee said the government should:
Change the law to allow employees to request flexible working arrangements when they start a job rather than waiting 26 weeks as currently mandated by law
Maintain increases in support including the £20 rise in Universal Credit
Extend redundancy protection to cover pregnant women and new mothers
Review the availability of sick pay
Conduct an equality assessment of the support measures introduced during the pandemic
Reinstate gender pay gap reporting which was cancelled in March 2020 due to the pandemic
Review childcare provision to provide support not only for working parents but those who are job-seeking or retraining.
The MPs also urged the Women and Equalities Minister Liz Truss to be "much more ambitious" in getting other government departments to consider inequality when designing policies.
Responding to the report, Labour's shadow women and equalities secretary, Marsha de Cordova, called for a "gendered response to the crisis".
She added: "The unequal impact of coronavirus on women is huge – women are more likely to work in low-paid sectors, to work in sectors which are currently shutdown such as retail and hospitality, and have taken on more caring responsibilities.
"The government cannot continue to deny and dismiss the reality of gender inequality across society."
'Culture shift'
Joeli Brearley, CEO and founder of the campaign group Pregnant Then Screwed, said "policy decisions have repeatedly ignored the specific needs of women", adding: "We are currently witnessing a generational roll back in maternal employment that will take us decades to repair."
British Chambers of Commerce co-executive director Claire Walker said that a national focus was needed to help parents and carers.
"Employers value the skills women bring to the workplace and the evidence shows that businesses with a diverse and inclusive workforce perform better."
She added: "Economic growth will depend on access to high quality, affordable childcare."
A government spokesperson said it had spent over £200bn on schemes "safeguarding people's jobs" including the Self Employment Income Scheme helping the 1.7 million self-employed women in the UK.
"Covid-19 is prompting a culture shift with more people than ever before working flexibly, and the government wants to harness that as we recover.
"By doing so, we could see more equal sharing of care work by parents, and more flexibility from employers, enabling us to unleash the potential of everyone across the country."
© 2021, sheconquers. All rights reserved.