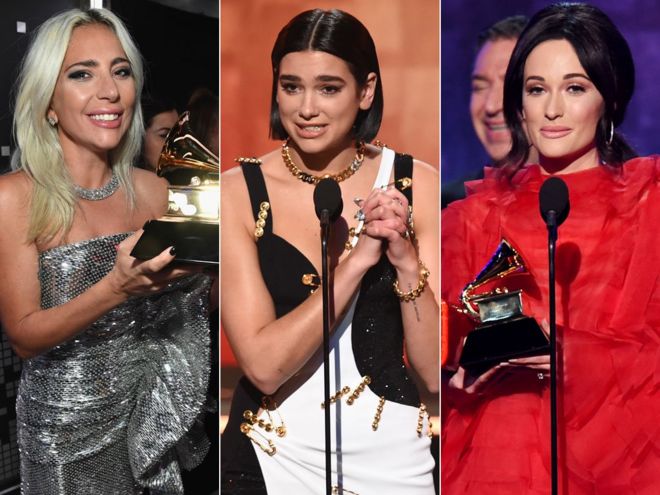 Kacey Musgraves, Dua Lipa, Cardi B and Lady Gaga were among the big winners at the Grammy Awards, making it a good night for female stars.
Country star Musgraves picked up four awards, including album of the year, while Childish Gambino also won four.
Cardi B made history as the first solo female to win best rap album.
British pop star Dua Lipa was named best new artist and paid tribute to the "incredible" line-up of "so many female artists" in the category.
"I guess this year we've really stepped up," she said – a dig at Grammys president Neil Portnow, who last year tried to deflect criticism of the lack of female winners by saying women needed to "step up" in order to be considered.
He appeared on stage at this year's ceremony to apologise, saying: "This past year I've been reminded that if coming face to a face with an issue opens your eyes wide enough it makes you more committed to bring change."
Speaking backstage, Dua said: "Being in the new artist category and having so many female artists nominated is a big change and it's a change we want to see for many years to come.
"It's a big difference from previous years, it only felt right because there were so many artists on there that I love and admire."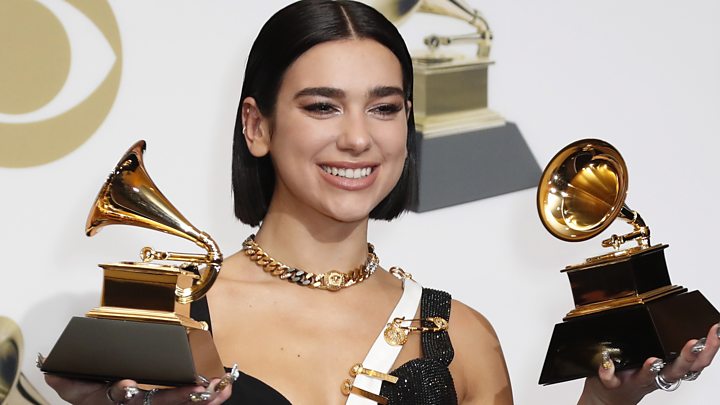 This year's ceremony certainly appeared to be at pains to make amends, with lifetime achievement prizes for Dolly Parton and Diana Ross, and scores of female performers throughout the night.
It was the first year in Grammys history that women had won five of the top album awards – album of the year, best pop album (Ariana Grande), best country album (Musgraves), best R&B album (H.E.R.) and best rap album (Cardi B).
Grande won her first ever Grammy Award for Sweetener, but wasn't there to collect it after a dispute with organisers.
"This is wild and beautiful," she tweeted. "Thank you so much."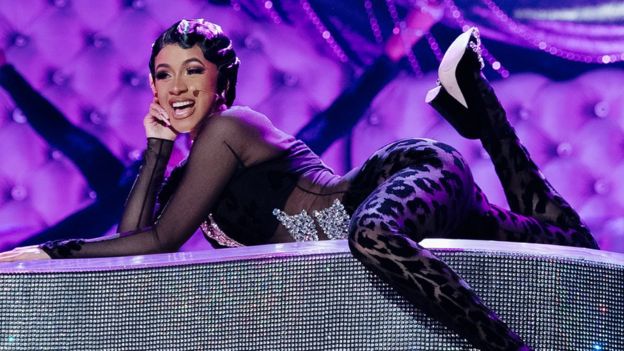 According to Variety, the Thank U, Next singer also expressed her disdain in a series of since-deleted tweets at the fact Mac Miller, who was nominated posthumously for best rap album, lost out to Cardi B.
"Trash" Grande reportedly wrote when the Brooklyn rapper was announced as the winner. But she later congratulated her, writing: "Good for her. I promise. I'm sorry."
Accompanied on stage by her husband Offset, Cardi thanked her daughter Kulture Kiari for giving her the impetus to finish the record on time.
"When I found out I was pregnant, my album was not complete," she said. "So I was like, 'I have to get this album done so we can shoot these videos while I was not showing.'"
Speaking backstage, Cardi said she shared her award with late rapper Mac Miller, whose family were at the awards.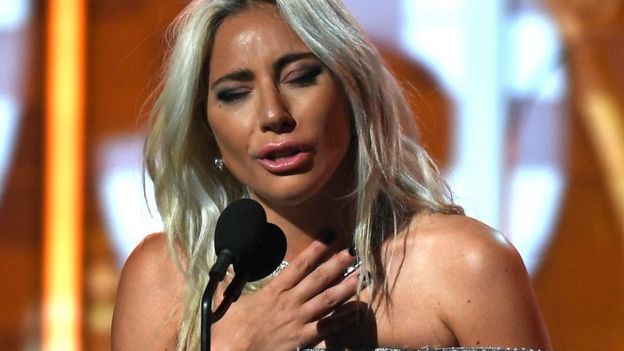 Lady Gaga won three prizes, including best pop performance for Joanne and best pop duet for Shallow, from the Oscar-nominated film A Star Is Born.
Holding back tears, the star thanked Bradley Cooper, her co-star and director, who missed the Grammys to attend The Baftas in London.
She also used her speech to highlight the film's mental health message, telling the audience: "If you see someone that's hurting, don't look away."
And Emily Lazar, who worked on Beck's Colors album, became the first woman in Grammys history to win best engineered album.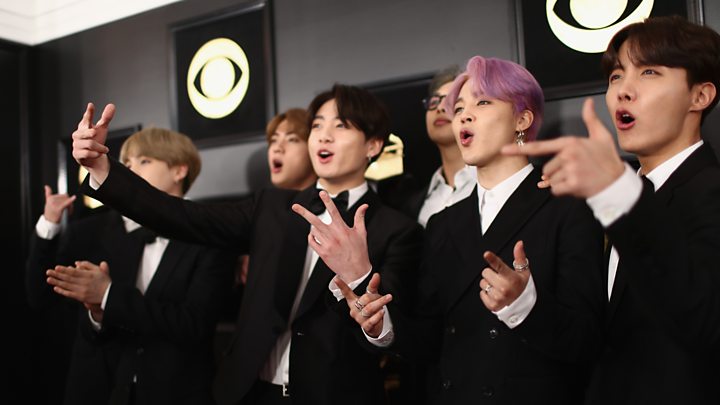 But while the Grammys has made strides with female artists, it still needs to repair its image in the hip-hop community.
This year, major stars including Chance The Rapper, Kendrick Lamar and Childish Gambino declined invitations to perform, amid concerns their music is being relegated to the rap categories (no hip-hop record has won album of the year since Outkast's Speakerboxxx/The Love Below in 2004).
The absence of Childish Gambino – aka actor Donald Glover – was particularly notable on Sunday, after he won four prizes for This Is America, his scathing critique of US socio-politics.
At one point, host Alicia Keys awkwardly had to fill time when no-one came forward to accept the song of the year award on his behalf.
Obama surprise
Pop star Camila Cabello opened the ceremony with a colourful – and expensive – staging of her smash hit Havana, set in a replica of her grandmother's childhood home in Cuba.
However, some of the most powerful performances were the most simple – including Miley Cyrus and Shawn Mendes' powerhouse performance of In My Blood, album of the year nominee Brandi Carlile and a rousing tribute to Aretha Franklin by Audra Day, Fantasia and Yolanda Adams.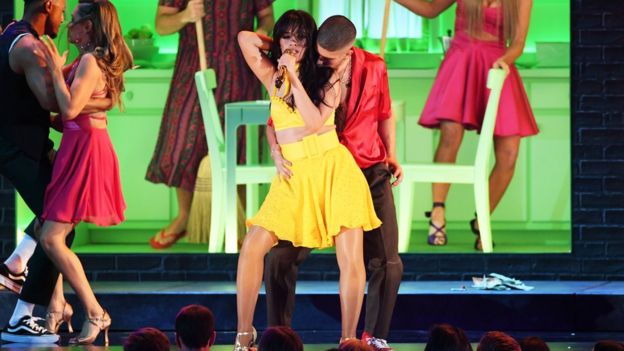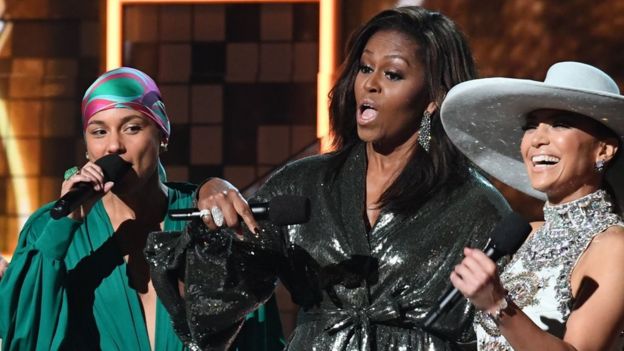 Former first lady Michelle Obama also made a surprise appearance, giving a speech about the unifying power of music alongside Lady Gaga, Jada Pinkett-Smith, Jennifer Lopez and Alicia Keys.
"Whether we like country or rap or rock, music helps us share ourselves, our dignity and sorrows, our hopes and joys," she said. "It allows us to hear one another, to invite each other in."
Diana Ross also spoke of the power of music as she performed her own tribute (possibly the most perfect diva moment in a career full of them), just weeks before turning 75.
"When I was a little girl, I thought the joy of singing made me happy, it made my parents happy and it led to this day and it brings me joy," Ross said.
Parton's tribute was more inclusive, with fans and friends Katy Perry, Kacey Musgraves, Little Big Town, Miley Cyrus and Maren Morris joining the star on stage for a joyful medley of her biggest hits.
"I'm just internally freaking out," said Morris before the show. "I met her and I was just trying not to quote Steel Magnolias at her."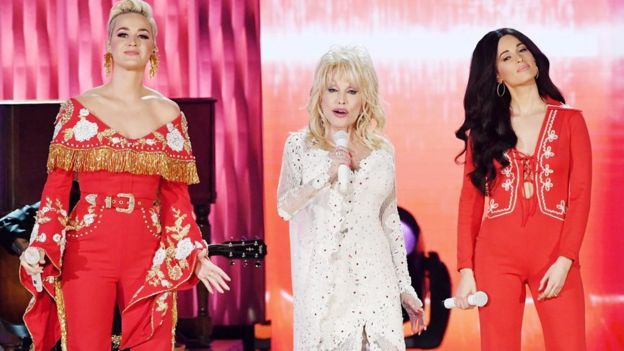 Dozens of awards were handed out before the televised ceremony kicked off, with The Greatest Showman winning best soundtrack; and British singer Ella Mai scooping best R&B song for the slinky summer hit Boo'd Up.
"I'm legit trying to take it all in," said the singer, who was nominated for song of the year. "I've dreamt of this moment ever since I was a little girl."
© 2019, sheconquers. All rights reserved.