By BBC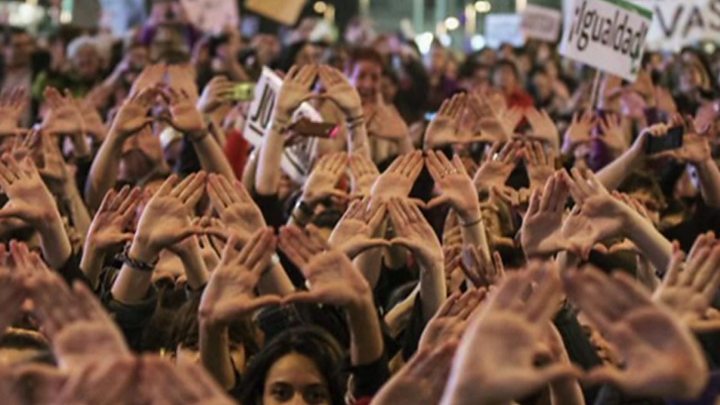 Women workers in Spain are marking International Women's Day with an unprecedented strike targeting gender inequality and sexual discrimination.
Work was being halted as part of a 24-hour strike organised by the 8 March Commission and backed by 10 unions and some of Spain's top women politicians.
Hundreds of marches with the slogan "if we stop, the world stops" are planned.
International Women's Day events are also being held in dozens of other nations across the world.
What's happening in Spain?
Women taking part are stopping work and have been urged by organisers to spend no money and ditch any domestic chores for the day.
One of the effects will be the cancellation of 300 trains on Thursday, the transport ministry said, with Madrid's underground network also disrupted.
Marches in Madrid, Barcelona, Bilbao, Valencia and a number of other cities were leading events in 200 Spanish locations.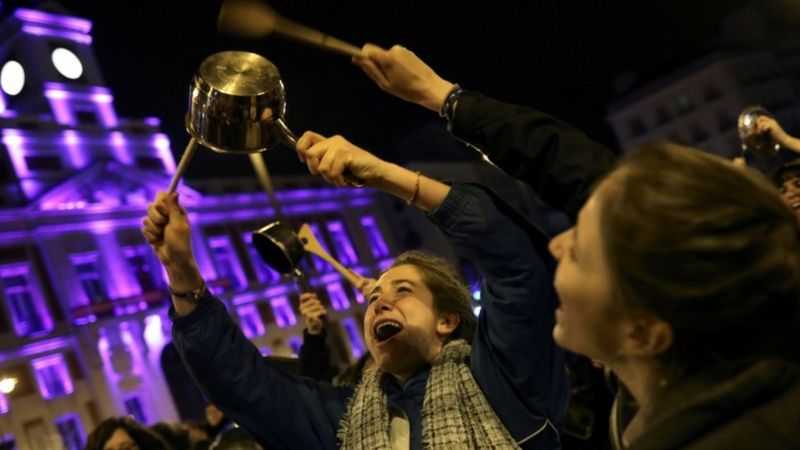 The 8 March Commission is behind the strike. Its manifesto calls for "a society free of sexist oppression, exploitation and violence" and says: "We do not accept worse working conditions, nor being paid less than men for the same work."
El Pais said most sectors would be affected and a poll of 1,500 people for the daily newspaper suggested 82% supported the strike, while 76% thought women in Spain had harder lives than men.
Feminist groups only want women to strike, to show how important their absence is, but Spanish law does not allow for single-gender strikes and men were welcome to support it.
Some have opposed the strike. The ruling centre-right party, the Partido Popular (PP), said the action was "for feminist elites and not real women with everyday problems".
However, two of the five female ministers in Spain's conservative government, Agriculture Minister Isabel García Tejerina and the president of the Madrid region Cristina Cifuentes, have said they will be observing a day of work-to-rule.
Actress Penelope Cruz cancelled planned public events and said she would go on "domestic" strike.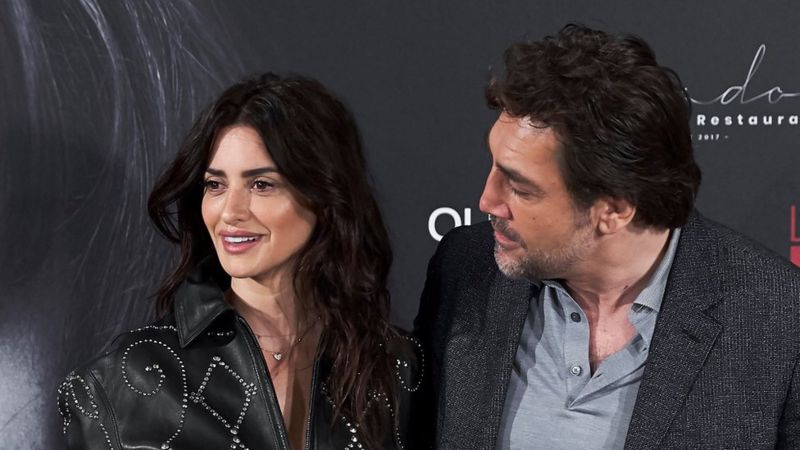 The mayors of Madrid and Barcelona – Manuela Carmena and Ada Colau – are also backing the strike.
In Spain, women were paid 13% and 19% less than their male counterparts in the public and private sectors respectively, data from the European Union's statistical provider Eurostat said.

What's happening elsewhere in the world?

Here's a round-up of some of the International Women's Day events so far:
A group of prominent Catholic women is meeting in Rome to demand a greater say in Church governance. But the list of speakers has angered the Church and Pope Francis has declined to attend or celebrate Mass. A former president of Ireland, Mary McAleese, described the Catholic Church as an "empire of misogyny"
Activists in China have been angered by the approach of retailers who have dubbed the day "Queens' Day" or "Goddesses' Day" and offered women customers discounts on goods such as cosmetics
Protesters against sexual abuse wore black, waved roses and held banners of the #MeToo movement at a rally in the South Korean capital, Seoul
Several female journalists in Ukraine started a Facebook drive called "I am not your darling", in response to President Petro Poroshenko's use of the term in a reply to a woman reporter
French daily paper Libération raised its price on Thursday – but only for men. Women pay the standard €2, while men have to cough up another 50 cents to highlight the gender pay gap
Anti sexual-violence protests are planned in Romania, which has one of the highest rates in the EU
Belgrade, Serbia, will see a "Death to fascism – freedom to women" protest
What has the social media response been?
UK PM Theresa May announced the launch of a consultation to improve protection of those suffering domestic abuse. She sent out a tweet in support of International Women's Day.

Indian tennis star Sania Mirza expressed her concern about the need for such a day.
The Women's Day Twitter page highlighted one nod by a corporate giant, turning an M into a W.

The Wired site used the day to highlight female innovators around the globe.

Many other uses simply sent wishes or highlighted achievements in their nations.
© 2018, sheconquers. All rights reserved.