For 22 years, Rano Mahmurodova was violently abused by her husband. A groundbreaking new project changed everything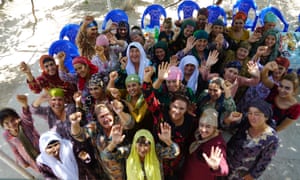 The change in behaviour of Rano Mahmurodova's husband was nothing short of a "miracle".
Married at 18, the 42-year-old had spent more than two decades being physically and verbally assaulted by her husband, who was fuelled by drink, drugs and unemployment.
Her five children would flinch and cower when their father was in the house, flying into violent rages. Their only respite was when he travelled to Russia for work.
But then came Mahmurodova's miracle. Her village, in the southern plains of Jomi, was selected for a pilot project aimed at reducing Tajikistan's appalling levels of violence against women.
Mahmurodova's family was selected by community elders to take part. Not only did her husband agree to participate when he returned from his latest stint in Russia, he gradually stopped drinking, stopped the abuse and apologised for causing her 22 years of pain.
"My husband is very grateful towards me," says Mahmurodova, sitting on a patterned rug on the floor of her neat, one-storey home, a white ceiling fan offering a slight cooling breeze on a stifling day.
"He said: 'Thank you for tolerating me. I didn't recognise how difficult it was to live with me.' There were several attempts before from the community to talk to him and try to persuade him [to stop the abuse], but it didn't work. But this time, I wonder how, it happened. It's a miracle. I'm very happy that he changed."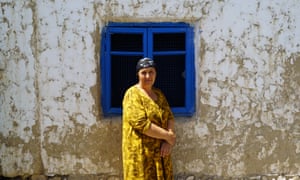 Villages in Jomi and in the northern district of Penjikent were targeted for the Zindagii Shoista (Living with Dignity) project, implemented by five organisations – International Alert and Cesvi, together with local partners Farodis, Women of the Orient and Action, Development and Prosperity (ATO). It was funded through the British government's What Works to Prevent Violence Against Women and Girls initiative, a £25m global project launched in 2014 to collect evidence about the scale and impact of violence against women and girls, as well as potential ways to stop it.
Fourteen projects across Africa and Asia – ranging from couples' counselling in Rwanda, to introducing school play time in Pakistan – are being funded through the What Works programme, as well as research into the drivers, prevalence, and social and economic costs of violence. The Department for International Development (DfID) wants the research to inform future global projects and drive more money towards tackling the global pandemic.
The World Health Organization estimates that one in three women worldwide – nearly a billion in all – will experience physical or sexual violence in their lifetime, mostly from an intimate partner. While men are not immune from abuse, globally women are more likely to be killed by a partner than men.
According to government figures, about one in five Tajik women who are in a partnership will experience some form of physical or sexual violence in their lifetime. But rights groups say that, if all women and incidences outside the home were included, the figure would be much higher. Shame and stigma prevent women from reporting abuse.
A mountainous country wedged between Afghanistan, Uzbekistan, Kyrgyzstan and China, Tajikistan is the poorest of the former Soviet Union republics. Its high unemployment rates mean many men tread the well-worn path to Russia in search of work. The country is heavily dependent on remittances, which contributed almost a third of Tajikistan's GDP in 2017.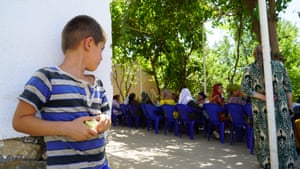 Less than half of girls complete secondary school and, according to UN statistics, about 59% of women work outside the home, compared with 77% of men. The vast majority of those who work are in low-paid jobs. Arranged and early marriages are common, and married women are required to live with their husbands' families. The man is considered the head of the house but, if he is working abroad, wives will fall under the authority of their mothers-in-law.
Research in Jomi and Penjikent in 2016, before the project began, found that roughly 60% of women had experienced sexual, physical or emotional violence in the previous 12 months, with the highest rates recorded between 18- and 24-year-olds. Depression was common and suicide were both common. All the villages involved had high rates of unemployment, poverty and food insecurity.
The Zindagii Shoista programme, conducted over 18 months, took a two-pronged approach. It offered relationship counselling for women, couples and extended family members, alongside training in setting up small businesses that would bring in some much needed cash.
The results of the pilot, published at the end of September, have been astonishing. After 10 weekly group and individual counselling sessions and 10 weeks of skills training, followed up with mentoring from local mediators, levels of violence against women have almost halved – dropping from 64% to 34%. The percentage of men who said they were violent fell from 47% to 5%.
Family relationships have become more equitable and the mental wellbeing of both women and men has improved significantly. Suicide rates for women fell from 20% before the project to 9%. Among men, rates fell from from 10% to nil. Women's earnings increased fourfold, and their savings tenfold. The proportion of women experiencing severe food shortages fell from 56% to 19%.
"It's a very good start," says Shahribonu Shonasimova, project manager for International Alert in Tajikistan. "In these communities, no one talked about violence against women and girls … but people had the opportunity to talk for the first time."
Shonasimova says the economic aspect of the project was essential – financial problems are a contributry factor in violence. Giving women earning power eases money worries and gives them greater independence. Shonasimova hopes funding will be found to expand the project.
The Guardian spoke to a number of women from the pilot villages. They spoke of how their husbands would lash out when money became tight and they had been drinking, about the abuse meted out by their in-laws, and of the startling transformation.
Marqhuba Mahmadqulova, 27, from Penjikent, said she sank into depression after her in-laws threw her out of the marital home because she couldn't conceive – as the woman, it was seen as her fault. Through the project she's gained sewing skills and has now set up a tailoring business. She dreams of becoming a fashion designer.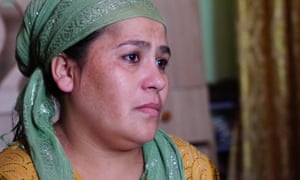 Mohrukhsor Alieva, 33, from Jomi, married her cousin, who was often out of work, high on drugs and drink, and was seeing other women. Aged 18, she had to move into the home of her mother-in-law, who controlled the household and was dismissive of Alieva.
"I had a very bad life in this family," says Alieva, sitting on a friend's bedroom floor. "Because my mother in law is my aunt, how can I dare complain?"
While Alieva's husband "could be nice", he became abusive when drunk. "When I told my aunt [about the abuse] she blamed me and said I was lying."
The project "came at the right time", she says. It gave her "an opportunity at the beginning to share the pain I have had. I couldn't go to anyone," she says, wiping tears from her face.
Officials involved in the project managed to persuade her husband and mother-in-law to attend family counselling sessions (they were given a meal if they did), and things began to change. Alieva says her husband now drinks less, is not as abusive and has a job. Her mother-in-law is taking more interest in their children and showing her more respect. Alieva suspects this is probably because she is bringing in some money from a small rental business she set up on the back of the programme.
Right now, life is good, Alieva says, joking that she's put on weight since the project started "because I am happy". Her 10-month-old baby girl may also be a contributory factor.
She says a huge burden has been lifted from her shoulders. She is confident the family won't drift back to old ways. "He [her husband] is good, but if he does something wrong, I remind him about the sessions and it wakes him up and it prevents him from doing things," she says.
"Now I am feeling like a wife and he is treating me better. I feel we are a family now. I didn't feel that before."
© 2018, sheconquers. All rights reserved.