Companies founded by women face bias when raising investment, but new initiatives are sidestepping the boys' club to support female founders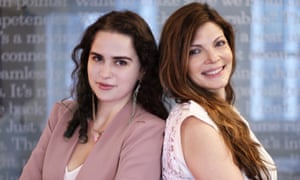 After leaving their careers on Wall Street in 2012 to become entrepreneurs, Irene Ryabaya and her co-founder Diana Murakhovskaya were expecting to find a more enlightened world. Instead, Ryabaya says, it was worse.
"I was so surprised, because I can see why oil businesses, for example, are a bit old-fashioned in terms of attitudes to women – they've been around for over 100 years – but tech entrepreneurs are younger, and their world is newer, so it should be different. Instead there's no accountability, and even more sexual discrimination and bias."
The pair were creating a friendship app, but, on the side, were also working on an informal support network for women in tech and entrepreneurship. Eventually, the app fell by the wayside, as the network took on a life of its own.
"We were holding events and helping women who didn't have the same Wall Street connections and experience. Soon it started to feel like we needed to do more." They decided to switch directions and create their own incubator for women-led startups, called Monarq. Company founders can now apply to Monarq to get access to training, introductions and mentorship.
A similar network offering pitch training and introductions, called the Female Founders Alliance, was launched in Seattle in 2017. Its founder and CEO, Leslie Feinzaig, started it after she experienced difficulties raising funds for her education tech startup.
"One of the issues I think I came up against – and I have heard this from male investors in confidence – is that if investors meet a woman of child bearing age, they think that she maybe isn't going to give it her all. Yet if they see a man at whatever age, they fully expect him to give it his all."
Feinzaig says women need to recreate the networks men typically access: "Men offer each other support by making introductions and setting up deals, and women do that less."
The picture is little better in the UK, where research from the Female Founders Forum, a project run by Barclays and the Entrepreneurs Network, found that companies with at least one female founder attracted just 9% of the cash invested in 2016.
Sophie Jarvis, programme director and head of the Female Founders Forum project, points to bias and culture in the investment industry as reasons for the gender investment gap. "The venture capital industry is still quite Mad Men-esque," she says. "I think it should look at what other professions, such as medicine and law, have done to stamp out that culture, to some extent."
Jarvis wants to encourage more women to go into venture capital. In the UK, for example, only 13% of venture capital decision makers (partners or equivalent) are women.
A number of organisations have sprung up to challenge the boys' club. Investment group Female Founders Fund only funds teams with at least one woman as a co-founder; Backstage Capital funds female, LGBTQ, and minority entrepreneurs; while not-for-profits such as Diversity VC in London and All Raisegroup in the US are encouraging more women to become venture capitalists.
London-based investor Francesca Warner says she co-founded Diversity VC with four others to investigate the lack of diversity in the industry. "It was a response to joining the industry and being the only woman – going to conferences and there being 30 speakers who were all men, all white."
The organisation holds events at universities to encourage more people to join and produces toolkits about bias. "Investors might look at 100 deals in a month, and only invest in one. They are making quick decisions and that leads to bias," Warner says.
"It's frustrating; it's often down to gut feeling," agrees Ryabaya. "These issues are pretty difficult to solve. Often it's because women are building businesses that appeal to women, solving problems more commonly faced by women."
This leads to missed opportunities. "When I think about it, it seems absurd that some stuff doesn't exist yet that we need – but the reason is most of the people building the software are young white males," says Ryabaya. "You end up with thousands of Tinder clones."
Both Ryabaya and Warner say investors look for people they've seen before. "Both women and men do it, sadly, they look out for people who remind them of people who've been very successful before, say Bill Gates or Mark Zuckerberg. It creates a disadvantage if you don't match that pattern."
Feinzaig believes this talent will be transformed into returns – and that this will generate real momentum: "I really think that over the next few decades there is going to be a windfall for people who invest in women-led businesses."
© 2018, sheconquers. All rights reserved.