Equalities chair says act needs 'real teeth' after allegations about men-only event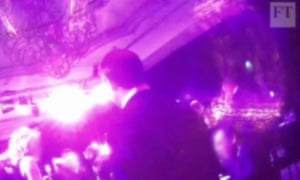 The chair of the parliamentary committee on women and equalities, Maria Miller MP, has suggested strengthening the Equalities Act, after details emerged of a men-only charity dinner – attended by senior figures from business and politics – at which hired "hostesses" were allegedly groped, sexually harassed and propositioned by guests.
Senior female politicians lined up to condemn "stomach-churning" behaviour by attendees of the Presidents Club charity dinner, held at London's exclusive Dorchester hotel and hosted by comedian David Walliams.
But according to an undercover investigation by two journalists from the Financial Times, some of the 130 women employed as hostesses to entertain the all-male guest list were subjected to sexual harassment.
The women were allegedly groped repeatedly and invited by diners to join them in bedrooms at the hotel, while some reported men putting their hands up their skirts.
One of the staff, who the FT said were only selected for the job if they matched the criteria of being "tall, thin and pretty", reported an attendee exposing his penis to her. The women were allegedly told to wear black underwear to match short, black, skirts they had been given for the evening.
It was claimed that they were paid £150 for a six-hour shift, plus £25 for a taxi home, not including any time they spent at an after-party at which one woman was told to "down that glass, rip off your knickers and dance on that table".
Lots at a charity auction held at the dinner included a night at Soho's Windmill strip club and a course of plastic surgery, accompanied by the slogan: "Spice up your wife."
A guest list seen by the Guardian, named billionaire Sir Philip Green, Dragons' Den entrepreneurs Peter Jones and Theo Paphitis and TV presenter Vernon Kay. Political figures listed among invitees included Conservative MP Nadhim Zahawi and Labour peer and party fundraiser Jonathan Mendelsohn, while current and past supporters of the event include Formula 1 magnate Bernie Ecclestone and property developer Nick Candy. It is unclear if any of the men attended and there is no suggestion that they engaged in the activities referred to [see footnote].
Miller said: "British business need to take a long hard look at itself. How seriously is business taking equality at work if they are still using men only events for entertainment?
"If business leaders are simply paying lip service to equality issues then perhaps it's time the government gives the Equality Act some real teeth?"
"It cannot just be me calling it out, let's hear from the establishment, the Conservatives, business, that this is disgusting and not in their name."
The deputy leader of the Liberal Democrats, Jo Swinson, said the report was "simply stomach-churning".
She said: "More than 300 rich businessmen were perfectly happy to attend such an event, which shows the rotten, sexist culture still alive and kicking in parts of the business community. Time's up on this crap."
Sophie Walker, leader of the Women's Equality party said: "Men from across political, business, and entertainment worlds are implicated in this grotesque circus of sleazy rich men pawing at young women and buying crude 'lots' in the name of charity.
"Those who are worried that women's confrontation of sexual harassment has gone too far and turned into a 'witch hunt', look no further."
Conservative MP Anna Soubry said: "I should imagine the charities will be appalled that their good name has been sullied in this way.
"It was never acceptable but it's 2018 for goodness sake and I thought – hoped – we'd moved on to being a more civilised decent society. Well we need to."
Other lots included in the charity auction included lunch with foreign secretary Boris Johnson hosted by former England cricketer Ian Botham, or tea with Bank of England governor Mark Carney.
The Presidents Club told the FT: "The Presidents Club recently hosted its annual dinner, raising several million pounds for disadvantaged children. The organisers are appalled by the allegations of bad behaviour at the event asserted by the Financial Times reporters. Such behaviour is totally unacceptable. The allegations will be investigated fully and promptly and appropriate action taken."
In a statement, the Dorchester hotel said it had a zero-tolerance attitude to harassment and said it would cooperate with the authorities if any complaints were made.
The Bank of England told the FT it "did not approve any prize for auction on the occasion described nor would it have for that organisation under its guidelines for charitable giving".
• This footnote was added on 24 January 2018. After publication, Nick Candy confirmed that he is a past patron of the Presidents Club and did not attend last week's event.
What women say about the Presidents Club
Yvette Cooper, chair of the home affairs select committee
Maria Miller, chair of the parliamentary committee on women and equalities
"British business need to take a long hard look at itself. If business leaders are simply paying lip service to Equality issues then perhaps it's time the government gives the Equality Act some real teeth?"
Melanie Leech, chief executive, British Property Federation
"The behaviour reported to have taken place at the President's Club charity dinner is shocking and totally unacceptable."
Carolyn Fairbairn, director-general, CBI
"If even half of what's been written about this event is true, it is deplorable and confirms how far we have still to go to stamp out sexual harassment. We want all women to feel confident and respected in every walk of life. We can and must do better than this."
Nicola Horlick, City fund manager
"These are some of Britain's top businesspeople and I can't understand how they can think it is appropriate … 120 girls were there … and some of them seem to have been very badly treated and, actually, molested, and that is a criminal offence. These people have to be held to account."
Anne Milton, education minister:
"I thought things had changed and it is absolutely clear that it hasn't changed. I think there is an association between rich, wealthy people and this sort of behaviour. We have to send a clear message that this is unacceptable."
Jess Phillips, Labour MP
"What happened is that women were bought as bait for men who were rich men, not a mile from where we stand, as if that is an acceptable behaviour – it is totally unacceptable."
© 2018, sheconquers. All rights reserved.