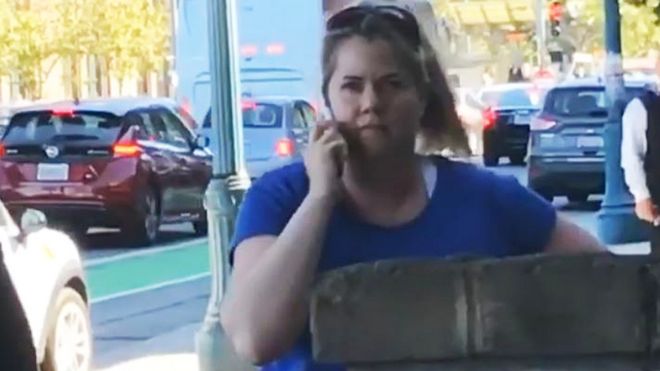 Move over BBQ Becky, there's another angry woman in town and she's not afraid to call the cops.
People have been using the hashtag #PermitPatty after a video was shared showing a woman reporting a child to police in San Francisco for selling water outside her home.
Eight-year-old Jordan Austin was selling water without an official licence.
Alison Ettel contacted the authorities to report Jordan's actions.
A video of the incident was shared on Instagram by Jordan's mum Erin, and was also shared on Twitter by her cousin Raje Lee – both using the #PermitPatty hashtag.

"[Jordan] was selling water bottles when [Alison] just rudely approached her, like: 'I need to see your permit'," Raje told The Huffington Post.
"Erin stepped in and told her to leave her kid alone. That's when the lady proceeded to call the police."
Raje's video has been viewed nearly 7 million times in just two days on Twitter. Another 1.1 million have watched Erin's video on Instagram.
Alison is reportedly the CEO of a medicinal marijuana company and at least one organisation in the state, where the drug is legal, say they will no longer sell her products.
Some Twitter users said that the situation highlighted a lack of equality in America between black and white individuals.

Alison said that there was "no racial component" in her choice to call the police, saying her decision was "stress related" because of noise being made by Jordan on the street.
"I completely regret that I handled that so poorly," she said, claiming that she only "pretended" to phone the police.
"I should have never confronted her. That was a mistake, a complete mistake."
Alison told the Huffington Post that she has been receiving death threats online.
She said she feels "discriminated against" for her "mistake".
This is not the first time a child's business venture has drawn the ire of neighbours.
Last month in Stapleton, Colorado, two boys were forced to shut down their lemonade stand by police after a neighbour called and complained, Fox 4 reported.
And last year, a man in Discover Bay, California, threatened to call the police on a girl's lemonade stand because she did not have a business licence.
Those previous incidents involved white children.
Alison has apologised for her actions on US media, but NBC News reported that Erin and Jordan said they would not accept Alison's apology.
Undeterred by Alison's actions, Jordan returned to her water business the following day.

She was reportedly selling water to help contribute to a family trip to Disneyland.
But after Raje's video went viral, a stranger bought four tickets for Jordan and her family to visit the theme park.
She seemed fairly pleased by the outcome.

And of course, this being Twitter, there are plenty of memes mocking the incident.



The #PermitPatty incident follows the story of #BBQBecky, which took place in May this year in Oakland, California.
A white woman called police to report a black family hosting a family barbecue in an Oakland Park, leading to a similar mix of outrage and memes.
Newsbeat has contacted Alison for comment.
© 2018, sheconquers. All rights reserved.