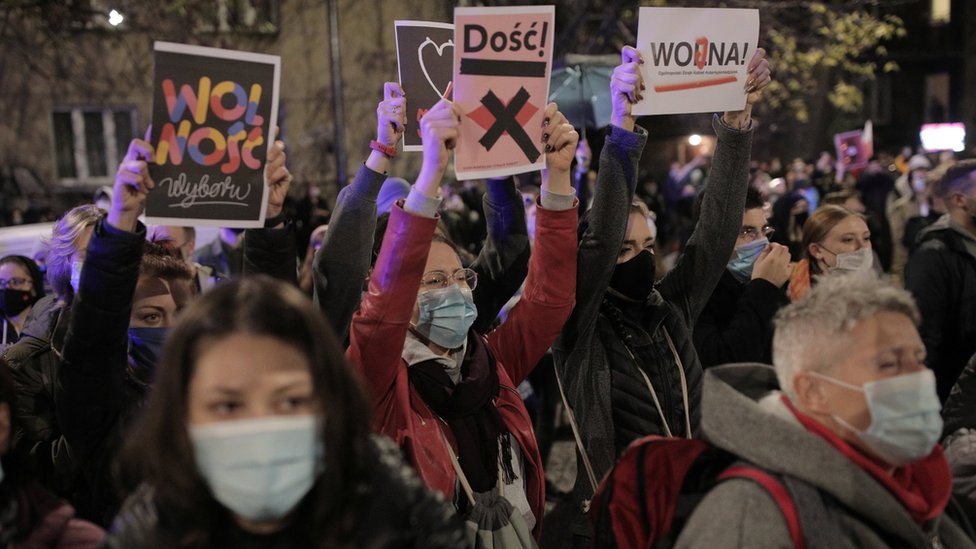 Thousands of women are protesting against new abortion laws in Poland.
A court ruling on Thursday banned almost all abortions – with exceptions only for cases of rape, incest, or where the mother's health is at risk.
Abortions carried out when the foetus is malformed, which accounted for 98% of legal terminations last year, have now been outlawed.
Poland already had some of the EU's strictest abortion laws, and sees fewer than 2,000 legal terminations a year.
However women's groups estimate that up to 200,000 abortions are either performed illegally, or abroad.
Protests were held in Poznan, Warsaw, Wroclaw and Krakow, among other cities, footage from private broadcaster TVN showed.
One protester in Gdynia, Magda, 34, told the broadcaster: "Women are not respected in this country. No-one is listening to us."
The ruling was delivered by the country's constitutional court, which has been reformed by the ruling Law and Justice (PiS) party.
Archbishop Stanislaw Gadecki, the head of the Polish Episcopal Conference, and the Polish presidency both hailed the ruling.
The constitutional court has been accused of counting many judges loyal to PiS in its ranks, and Donald Tusk – who now leads the European People's Party after presiding over the European Council – criticised the judgment.
"Throwing the topic of abortion and a ruling by a pseudo-court into the middle of a raging pandemic is more than cynical," he tweeted.
Current coronavirus restrictions limit public gatherings in Warsaw to just 10 people.
On Thursday night, protesters and police clashed outside the home of Deputy Prime Minister Jaroslaw Kaczynski
© 2020, sheconquers. All rights reserved.