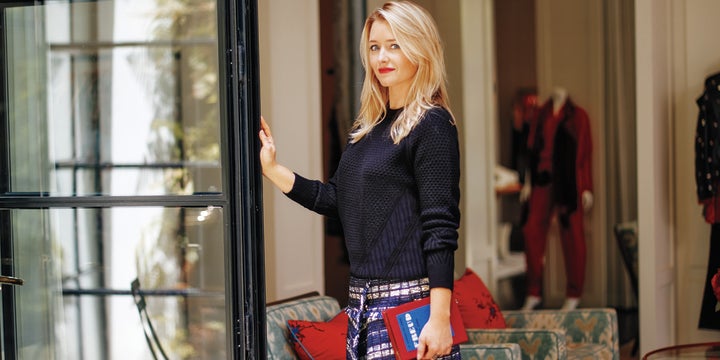 Joyann King is the editor of HarpersBazaar.com, a community of influential, engaged women that reach 10MM monthly unique visitors and over 25MM via social media. During King's seven-year tenure, the iconic luxury heritage brand with a niche in fashion and beauty has expanded to entertainment, culture, travel, weddings, features, and coverage of women's and social issues. High-profile celebrity features, news-making essays and viral videos can attest that BAZAAR.com carries on the brand legacy in a modern and relevant way. King was recognized as Adweek's Ones to Watch in 2015 and is responsible for all editorial content, social media and video programming. King is also the Partnership Director for CR Fashion Book at Hearst.
In 2016, BAZAAR.com won a MIN Best of the Web Award for Visual Storytelling. In 2014 and 2015, the brand was also recognized as Adweeks's Hottest Fashion Magazine in part due to the collaborations between print and digital. King was an integral part of the launch of the brand's first ever content-to-commerce venture, ShopBAZAAR, in 2012 that has paved the way for the competition. Joining Snapchat Discover just this year, BAZAAR.com's twice-weekly editions are the fastest-growing platform for the brand. The brand's YouTube audience is close behind, with an average of six million minutes of content watched monthly, and counting.
Prior to BAZAAR, King was the fashion news editor for InStyle.com where she launched their first-ever fashion, beauty and celebrity news vertical in 2009 and oversaw their interactive Designer Central hub. She has previously worked at Glamour, SELF, ELLE.com, ELLEgirl.com, Stylecaster.com, Shopbop.com and Domino.
How has your life experience made you the leader you are today?
I consider myself a pretty good friend. I learned this from my mom, who was always surrounded by a loyal and loving group of women and taught me that relationships don't come easy, they require effort. Being "friendly" might not seem like the best quality for the competitive world of magazines, but you can get far in life if you learn how to listen, return a phone call, remember something personal about someone, and pour a large glass of wine at just the right moment. But really, nurturing people takes a certain amount of self-sacrifice, it can't always be about you. I hope my team finds coming to work a little like hanging out with their friends all day, while also fulfilling a duty. I hope they see me not only as their boss but as someone who is earnestly concerned with their lives and their careers.
My father taught me to be humble and the value of integrity. Respect is earned, not demanded. You don't have to be cutthroat to make it if you are good enough. So why not be kind? He also doesn't suffer fools, he taught me to do things with a purpose—cut the things that don't matter and get the important stuff done right. That notion has proven to be integral training for keeping one's head above water in the constantly changing world of digital media.
How has your previous employment experience aided your tenure at HarpersBAZAAR.com?
I've tasted all the flavors. SELF, Glamour, ELLE, InStyle – they all make my resume look like a glossy newsstand lineup.
My assistant years at Conde Nast taught me how a juggernaut media company works and how to hone relationships within the industry to further a brand. I did a lot of side hustle in my years there too, offering to write captions for the barely-breathing websites, appearing on morning shows as a model for the executive editor's segments just to get in front of the camera, flying trunks to Palm Springs to get a taste of a major fashion shoot on location. I was hungry for it all.
But my big "break" was when I went to be the editor of ELLEgirl.com in 2007 with little to no experience on the web, mainly because no one had any! It took a leap of faith that my dear friend – and, at the time, recruiter – Joe Berean, sold to me as "a fun time and we will figure it out." I actually had no idea what I would even do on my first day. I've had that feeling many more times during my career as the internet and social media are always cooking up the next big thing and throwing it at you.
The ELLEgirl gig had zero cache, but it had boundless opportunity. I learned to speak "internet," I launched a blog, I starred in my own video series, I partnered with the ad team on editorial packages, I appeared on TV as a talking head, and then I got laid off when they eventually traded editors for partner content streams on the now-defunct teen site.
A highlight from those days was roller skating around the office with ELLE's then special projects editor Alia Ahmed-Yahia, who shared a desk with me in a windowless office, and who I now count as one of my dearest friends and mentors. Those days gave me the courage to tackle all the digital opportunities that would eventually come my way, like running the first-ever fashion, beauty and celebrity news vertical for InStyle.com or joining the ranks of the elite Harper's BAZAAR as a digital editor, party of one.
What have the highlights and challenges been during your tenure at HarpersBAZAAR.com?
Bringing a 150-year-old print brand into the digital world and finding and growing an audience for it has had its high times and hard times. Harper's BAZAAR the magazine has a rich history of not just gorgeous photography and fashion advice, but one that has largely documented and pushed for social justice. It also has featured an impressive list of rising stars over the decades and prides itself on discovering what's next. We take this high bar of history very seriously and hope that we are formulating a similar path in the digital space. Ultimately, we try and push the brand to new heights on each new platform or medium and gauge our success by our audience's engagement and loyalty.
What advice can you offer to women who want a career in your industry?
Network, intern, DM your idols on Instagram. It's the age-old way in the door and it still works. I love hearing from young editors who ask for a cup of coffee or reach out for career advice. I always make time and remind them no one is ever tired of talking about themselves.
At Bazaar.com, we have also largely hired from our former intern pool as our staff has grown significantly in the last couple of years, which is something I am really proud of. Work, think and act like a super star and you will be remembered!
What is the most important lesson you've learned in your career to date?
Be nimble. Don't be afraid of taking on the unknown. Only boring people never change.
How do you maintain a work/life balance?
I was just talking to my features editor about phone addiction, something I confess I may need to sober up from. I try and carve out time with my husband in a phone-free environment. We love to go upstate on the weekends and get outside and away from the city with our dog. He is a real outdoorsman, and not the least bit addicted to his phone – he forgets to check it! He encourages me to be present when we are together and I appreciate that he practices what he preaches. I am also lucky enough to see my best friends on the regular, a night with them can be just want you need to be motivated and re-focused the next day. But tech neck is a real thing, and something I am definitely trying to combat.
What do you think is the biggest issue for women in the workplace?
Wanting to have it all. Many women work hard for careers where they want to be paid and promoted fairly, but they may also want a family. The wage gap, unrealistic maternity leave policies, not to mention the idea that, as women, we have to act or look a certain way to be eligible or respected in a certain position, are all stacked against us – although our uprising will not be stopped! I'm not complaining, I want it all and will continue to power on, but no one said it was going to be easy. We must fight for change.
How has mentorship made a difference in your professional and personal life?
Kristina O'Neill and Laura Brown. Both are former executive editors of Harper's BAZAARand have now moved on to be extremely successfully editor-in-chiefs at WSJ. and InStyle, respectively. I had the honor of working under both of them in the early stages of my time at Harper's BAZAAR, and looked up to them and was taking notes.
Kristina has the ability to surround herself with the most talented and powerful people in the industry and run them with ease and a sense of humor. Everyone wants to work with her and, in turn, she works with the best! Her snap judgement is unsettlingly spot on, and she has a keen awareness of branding. She also taught me you don't have to get credit for everything. If your product looks good, you look good.
Laura Brown uses her wild and crazy imagination for some of the most original content creation out there, and her unmatchable wit and enjoyment of her job is an important reminder that this business can be fun! I don't think there was ever a moment when she offered her feedback or advice that didn't end in us laughing and Instagramming something weird on her desk. Not taking yourself too seriously is always in fashion.
Which other female leaders do you admire and why?
My sister, Rachel King Huff, who is the principal of one of Brooklyn's leading charter schools, which was just recognized as a National Blue Ribbon School last month. She has delivered some of the best reading and math stats in the country to an area of Brooklyn that is in dire need of a competitive education. She helped launch the school's first grade and tirelessly opened up grade after grade before overseeing the whole operation. She teaches her scholars the word "grit" as soon as they enter kindergarten. It means courage and resolve, both of which she has needed to accomplish this undertaking. I'm forever wowed by her fierce hard work and burgeoning leadership skills, and humbled by the massive difference she is making in these kids' lives.
Also, my Hearst Magazines Digital Media family – Kate Lewis, Brooke Siegel, Anna Jimenez, Leah Chernikoff, Jessica Pels, Amy Odell – their support, feedback and healthy competition, give me the strength to push myself. Celebrating our wins (and mulling over the losses) is so much sweeter with them in my corner.
What do you want HarpersBAZAAR.com to accomplish in the next year?
I want to expand our platform of voices beyond just our site, with live events and social activism. I want to continue to push boundaries in the video space with the way we approach storytelling and how we entertain. I want BAZAAR to continue to reach women in a new and innovative ways, and feel 151 years young.
© 2018, sheconquers. All rights reserved.