Awards honour women who go above and beyond the call of duty on the job and in their communities.
By: Leith Dunick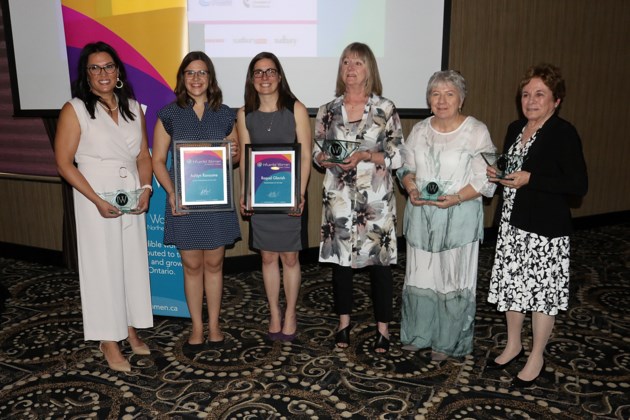 Melissa Hargy-Giles (from left), Ashlyn Ransome, Raquel Glavish, Patricia Forrest, Madge Richardson and Marlene Davidson were all named winners at the Women of Influence Luncheon at the Victoria Inn on Monday, May 27, 2019. (Leith Dunick, tbnewswatch.com)
THUNDER BAY – Marlene Davidson says she wasn't sure she would be able to spare the time to attend Monday's Woman of Influence luncheon in Thunder Bay.
As president of the Atikokan Metis Council, which she founded a decade ago, Davidson routinely puts in dozens of hours of overtime each week, adding to her workload by chairing the local family health team and library board, also volunteering on the local hospital board.
But, Davidson said, after a short thought, she realized it was important to accept the award in person, recognizing her local career in both public and humanitarian service.
"I'm used to giving, and not taking," Davidson said following the ceremony, held at the Victoria Inn.
"It was really a good experience for me to maybe recognize that what I'm doing is kind of important."
It's equally important for women to be honoured for the work they're doing throughout Northwestern Ontario.
It provides plenty of inspiration for the younger generation, showing them the opportunities that might be out there.
"I've got a daughter and five granddaughters, so I think it's important because leadership is not just standing up for what you believe in and it's not for being elected. It's for the next generation," said Davidson, who took home the Aboriginal Leadership trophy.
Madge Richardson, the executive director of the North Superior Workforce Planning Board, was honoured as executive of the year.
She said it was an overwhelming ceremony.
"It does take you some time to process it and actually grasp the reality, but it's such an honour, especially when I've had the opportunity to meet so many women and men who are just so influential and such strong leaders," Richardson said.
"It's a privilege to be acknowledged within their ranks. It's really exciting."
Richardson agreed it's important to take note of women who succeed, because as much progress has been made over the decades, there's still plenty of work to be done and there's a danger that things could start to slide the other direction, given the political climate.
It may have already started, she added.
"To be an inspiration or to show younger people that it truly does pay off when you're doing things you love and when you're doing things with people that you respect, that you really can accomplish a great deal."
Melissa Hardy-Giles, owner of Origin Recruitment and Hardy Giles Consulting, took home the entrepreneur of the year award, while the Pasta Shoppe's owner, Ashlyn Ransome, was named young entrepreneur of the year.
Raquel Glavish, the civil engineering co-ordinator at Confederation College, earned the tradeswoman of the year trophy, while Patricia Forrest, the senior co-ordinator of partnerships and initiatives at Destination Northern Ontario, was given the influential community trailblazer award.
Abbas Homayed, publisher of Northern Ontario Business, which has handed out the awards for the past 22 years, said these are women who go above and beyond to make the world a better place.
"Basically they empower our community. They go beyond the call of duty in their respective businesses in their area of expertise and they empower others to do the same," Homayed said.
It's not easy picking the winners, he added.
"We never promise the judges an easy job and they tell us that at the end," he said. "To narrow it down to 12 winners in two regions is really difficult."
© 2019, sheconquers. All rights reserved.